HOMEMADE SOLUTION
Revista Galileu by Tatiana Silvestri Foto: Fabiano Accorsi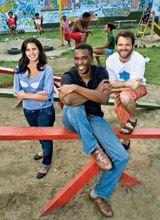 The Elos Institute shows the ropes so that needy communities build public spaces taking advantage of labor force and materials from the region.
Sometimes, the solution to a problem is closer than you think. Human resources and local available materials can change the reality of damaged communities, such as favelas, tenements and fishers' villages. This is Elos Institute idea, a non-governmental organization in Santos (SP), founded in 2000 by young architects and urbanists.
"Our formula is simple: a dream in common, a short time to achieve what we long for and lots of disposed people who are not afraid to get their hands dirty", says Edgard Gouveia Jr., Elos president. Bringing to practice: the Institute gathers residents from a specific community and young social entrepreneurs to enable projects of shared interests. The results are squares, nursery schools, soccer fields, playgrounds, vegetable gardens, flower gardens, cultural centers and even water treatment, sewage and waste collection sustainable systems.
Everything starts with the choice of the community that will receive help. Elos' priorities are those which show a social and environmental urgency, which have been forgotten by society and ignored by Public authorities. Problems such as open air waste disposal, high-risk construction areas or areas hit by floods. Once the community has been chosen, the first contact between Elos and the residents involves a series of games and ludic activities. The goal is to identify the needs and local talents, besides awakening an entrepreneurship and cooperativism sense among the assisted population.
In a second moment, community and young ones number, discuss and suggest solutions to the problems. They plan the construction of areas that offer improvements in educational, cultural, health, hygiene, comfort, security and leisure terms. After gathering lots of people, they work to build what has been idealized. In all process, community is the main – almost single – agent of social changes. Everything is built with local resources. Used tires, wood, bamboo, plastic bottles, stones and even old pots become raw materials in each work.
Spreding the seeds
When that stage is completed, the Institute offers support and follow-up, so that, with time, community have autonomy with the resolution of local problems and with the community mobilization. "Group work has brought us a fast result and we could see what we've built with our own hands. We realized we are capable of changing our reality, making dreams become real projects, as long as we are united", says Ronaldo Pereira, 23 years old, one of Alemôa Village community leaders, in Santos. Statements like this show another goal of the Institute: to give back self-esteem and value residents culture.
Everything that is learned and built do not only remain with the community. The Institute holds workshops in order to promote knowledge exchange, new projects implementation, and the development of social networks capable of joining society, city councils and others NGOs.
Elos also invests in young entrepreneurs training with the Warriors without weapons Program (GSA). It offers a one-month personal development course for those between 18 and 35 years old. The idea is that they can return to their cities armed with efficient techniques for guiding and promoting group work in the communities they live in.
After ten years of existence, The Elos Institute has joined more than one thousand young graduate entrepreneurs. They cooperate in the shares of the entity. As an example, they participate in social interventions at about 20 communities in the south and southeast of Brazil, and in development methodologies that are spread throughout the world.
For this year, the entity is investing all its strength in the Oasis Project in Santa Catarina. The initiative intends to involve 800 young people from different regions of the country and community members in the physical revitalization of ten cities in that state, which where affected by the floods in November, last year. The movement starts in July. It has a social networking with partners such as Brazil Architects Institute and Peace Child Brasil.